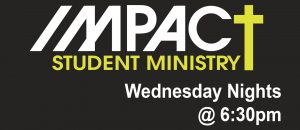 MISSION OF IMPACT
To make Disciples and IMPACT today's youth for the gospel of Jesus Christ!!!
OUR VISION FOR MINISTRY
Our vision for ministry at the Grayhill Church of God is to reach today's youth by being real and relevant to them. We want to accept every teenager that comes to our church. We want to IMPACT them by:
DISCIPLING: shaping them to become lifelong disciples of Jesus.
LOVING: showing them the love of Christ.
Seeking: helping them to seek the power of the Holy Ghost.
Acting: go and IMPACT their generation.
IMPACT services are held every Wednesday at 6:30pm